Popsicles and zucchini 'zoodles': Meet your favorite new water-rich foods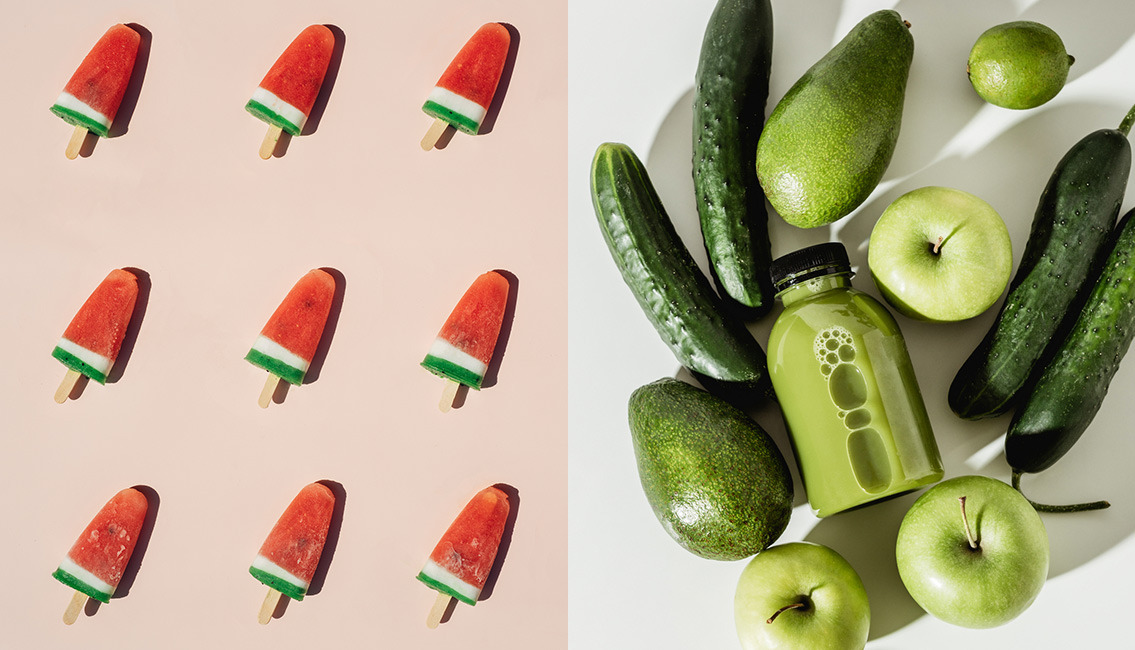 BY SHEELA SOSKIN | 2 MINUTE READ
" Eat your water,' is a phrase I've used for years to help explain that staying sufficiently hydrated for whole body health isn't only about drinking eight glasses of water a day. When we eat more water-rich foods, we absorb water more slowly because it's trapped in the foods' structure. That slow absorption means water stays in our bodies longer, with many additional benefits."—Dr. Howard Murad, board-certified dermatologist and founder of Murad Skincare
From keeping organs in check to boosting mood, the perks of staying hydrated are endless. Here are eight easy ways to chew your way to hydration from a couple top experts: Annaliese Jones, a highly sought naturopath Down Under and founder of the Annaliese Jones Healthcare Clinic in New Zealand; and Dr. Lisa Young, a registered dietitian nutritionist and adjunct professor of nutrition at New York University. As Young says simply, "Many people forget to drink, but they rarely forget to eat."
#1: Watermelon
The (literally) mouth-watering fruit is 96% water, so it's not only hydrating, but it'll also keep you fuller, longer. Tasty tip: Try a savory watermelon salad. Chop it into cubes, add diced cucumbers, crumbled feta cheese and mint to keep you quenched and content.
#2: Cucumber
Also clocking in at 96% water, the humble cucumber packs a serious hydrating punch. "Plus, they're packed with nutrients like vitamins C and K, fiber and magnesium," Young adds. Tasty tip: Go Greek with easy homemade tzatziki. Peel, grate and drain cucumbers, mix with Greek yogurt, dill, crushed garlic and a dash of EVOO.
#3: Strawberries
Boasting 92% water, strawberries are also sodium-free, fat-free, cholesterol-free and loaded with antioxidants and vitamins. Tasty tip: Strawberry ricotta "sundaes," anyone? Chop up a handful of strawberries and top with a small dollop of ricotta cheese. Drizzle with a bit of liquid honey and a small handful of slivered raw almonds for a decadent, IG-worthy dessert.
#4: Soups and bone broths
Clear soups typically consist of at least 90% water to help ramp up water reserves. Tasty tip: Not really hungry, but feel like eating? (We've all been there.) Sip soup for an instant warmer or top your bowl with a protein of choice like chicken or beans to feel nourished and hydrated.
#5: Unsweetened apple sauce
This lunchbox staple from childhood seems like a throwback, but the fact that it's packed with water (85%), low in calories, filling and delicious makes it a thoroughly modern treat. Tasty tip: Add a dash of cinnamon for a zero-prep, gratifying dessert. Baked goods more your speed? Applesauce makes a great replacement for oil in recipes, providing the same level of moisture for breads, cakes and muffins—minus the calories and fat.
#6: Zucchini
Roasted, sautéed or spiralized, these colorful summer squash are 95% water and 100% delicious. Tasty tip: Try "zoodles" for your next Italian-inspired feast. "Zucchinis are dense, so they're great hydrating alternatives to pasta, which has zero water," Jones says.
#7: Popsicles
Yes, popsicles. They can perk us up all year round. When made with mostly fresh fruit and water, these icy confections give you a big hit of hydration and temper a sweet tooth. Tasty tip: Buy a popsicle mold and always have sticks handy. Purée your favorite fruit and add a squirt of lemon juice and a spoonful of honey. Mix well, then pour into the mold.
#8: Celery
With 95% water, these crunchy stalks are also known for its anti-inflammatory properties. Tasty tip: Partner celery sticks with raw almond butter for extra points in the skin-health department. "Skin hydration is also about how well you can hold onto water, which can come down to whether you have enough essential fatty acids like natural nut butters in your diet," Jones says.
About the author: Sheela Soskin is a beauty editor and copywriter who has written for luxury and lifestyle brands such as Tom Ford, The Honest Company and Ipsy. She currently lives in Auckland, New Zealand, where she spends her spare time exploring the lush landscapes and obsessively searching for the perfect red lipstick.